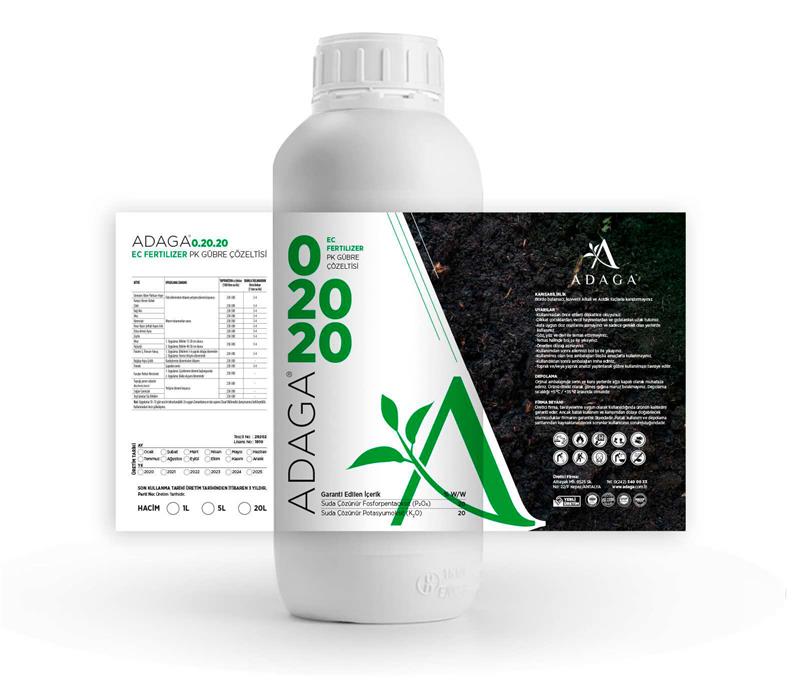 SHORTENS NODGE SPACES FLOWER AND FRUIT GROWER
EC FERTILIZER
PK Fertilizer SOLUTION
BALANCES FAST AND SLOWLY GROWTH, SHORTENS THE SPACES.
FLOWERING PROVIDES FRUIT SETTING AND FRUIT GROWTH.
| | |
| --- | --- |
| Guaranteed Content | % W/W |
| Water Soluble Phoaphorpentaoxide (P2O5) | 20 |
| Water Soluble Potassium Oxide (K2O) | 20 |
It is a new generation Phosphorus and Potassium-containing product. The high rate of Phosphorus and Potassium in its content is quickly uptake by the plant, and the results are seen in a short time and effectively. It is a product used in flowering, fruit set and fruit growth in plants. It can be used safely on all plants from soil and leaves. It encourages generative development in plants with high vegetative development and ensures that the plants lie in yield. ADAGA 0.20.20 creates more healthy flowers by shortening the internodes in plants. In this way, it significantly increases fruit set. With the combination of advanced technology Potassium and Phosphorus, the natural defense systems of the plants are activated, the roots and stems develop together healthily and the plants become much more resistant and resistant to diseases caused by viruses. The problem of flower casting is eliminated, and in products with internal discharge problems in stems and fruits, Potassium takes its place in the tissues very quickly, allowing these parts to be filled. When applied from the soil and leaves in fruit deformities, the deformities of the new fruits quickly disappear. The new generation product ADAGA 0.20.20 does not increase the number of abnormal stomata because it is not sourced from Phosphate (Phosphate), it does not allow the structures of stomata to deteriorate and close, and ensures the perfect functioning of Physiological events such as Photosynthesis, respiration and sweating.
KULLANIM ŞEKLİ :
With Drip Irrigation: 2-4 liters/decare
With sprinkler: 2-4 liters/decare
By foliar application: 100 liters/200 cc