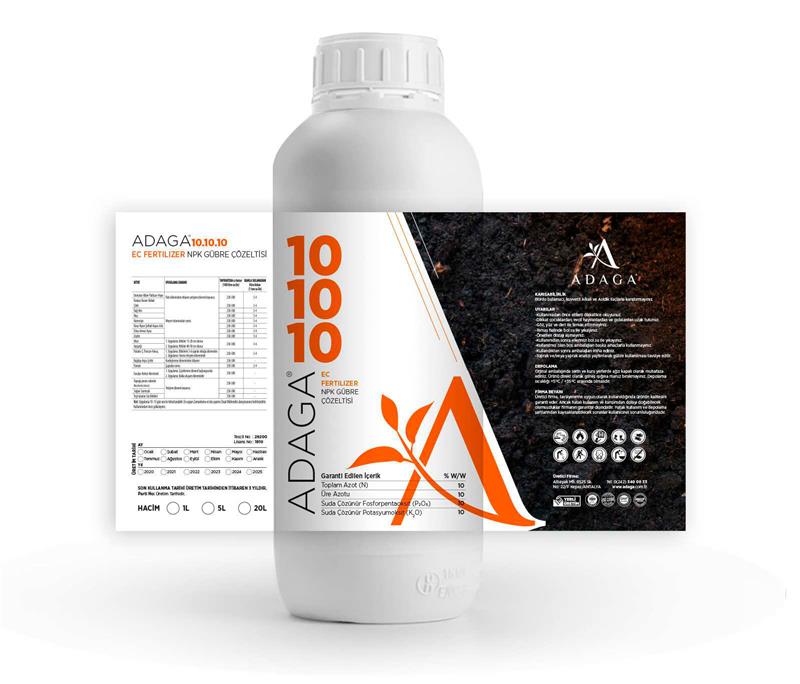 BALANCED FERTILIZER SOLUTION
EC FERTILIZER
NPK FERTILIZER SOLUTION
SPECIAL FORMULA BALANCED CONTINUE FERTILIZER
PROVIDES ROOTING, FLOWERING AND FRUIT QUALITY.
| | |
| --- | --- |
| Guaranteed Content | % W/W |
| Total Nitrogen( N ) | 10 |
| Urea Nitrogen | 10 |
| Water Soluble Phosphorpentaoxide (P2O5) | 10 |
| Water Soluble Potassium Oxide(K2O) | 10 |
ADAGA 10.10.10, with its specially prepared formulation, ensures balanced rooting, flowering and quality of fruits according to the development periods of the plants. With the special additives in it, it is quickly absorbed by the plants and increases the yield by preventing the negativities during development. It dissolves the undissolved fertilizers in the growing medium and makes it useful for the plants. In this way, it provides an economic contribution. Thanks to the NPK it contains in liquid form, it is in a form that can be easily taken by plants 100% even in bad conditions in cold periods. Foliar fertilization is effective for a full and effective feeding. ADAGA 10.10.10 is a balanced, good foliar fertilizer and one of the indispensable elements in plant nutrition. ADAGA 10.10.10 has a high fertilizing power and is characterized by high purity of its content, full absorption capacity and providing fast and perfect transportation to the plant. It promotes the balanced growth of plants, photosynthesis and also aids flower formation and vegetable growth as well as final yield.
USAGE :
With Drip Irrigation: 2-5 liters/decare
With sprinkler: 2-5 liters/decare
By foliar application: 100 liters/250 cc