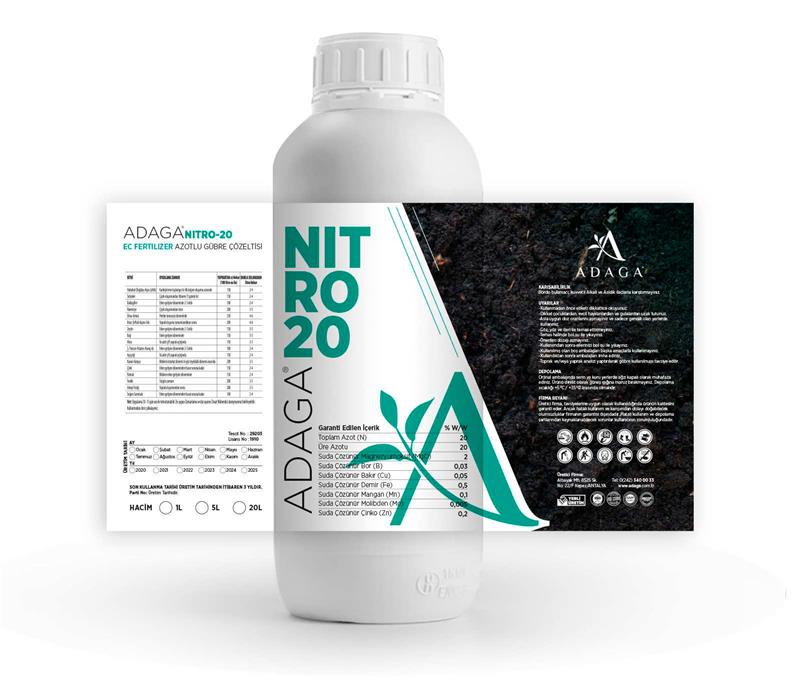 MAXIMUM BRANCH, BODY AND PRODUCT DEVELOPMENT
EC FERTILIZER
NB Fertilizer SOLUTION
GREEN HEALTHY FAST PLANT, STRONG BRANCHES, MAXIMUM DEVELOPMENT.
| | |
| --- | --- |
| Guaranteed Content | % W/W |
| Total Nitrogen ( N ) | 20 |
| Urea Nitrogen | 20 |
| Water Soluble Magnesium Oxide (MgO) | 2 |
| Water Soluble Boron (B) | 0,03 |
| Water Soluble Copper(Cu) | 0,05 |
| Water Soluble Iron (Fe) | 0,5 |
| Water Soluble Manganese (Mn) | 0,1 |
| Water Soluble Molybdenum (Mo) | 0,005 |
| Water Soluble Zinc (Zn) | 0,02 |
The appropriate composition of Nitrogen and Magnesium is designed for the health and development of plants. ADAGA NITRO-20 is a liquid fertilizer with high nitrogen concentration. It has the capacity of rapid effect and availability. Thanks to the high amount of Nitrogen it contains, it prevents and treats the symptoms in the plant. It prevents yellowing of leaves and improves their effectiveness. It can be applied at the beginning of the season and in any period when vegetative growth is developing rapidly. ADAGA NITRO-20 supplements its formula with trace elements. Rapidly penetrating trace elements together with nitrogen support allow the plant to continue its development without interruption. Nitrogen has a direct effect on root development, plant height, stem thickness, number and size of leaves, number of branches, thickness and length, shoot and fruit/grain development in plants. Magnesium is the main component of green color in plants. It plays a role in the plant's taking the sun's rays and using it directly in photosynthesis. It provides healthy, bushy and dark green leaves. It increases the photosynthetic power, protein synthesis and dry matter accumulating capacity of the plant.
| | |
| --- | --- |
| USAGE : | |
| With Drip Irrigation: | 2-5 liter/decare |
| with sprinkler: | 2-5 liter/decare |
| With foliar application: | 100 liter/250cc |